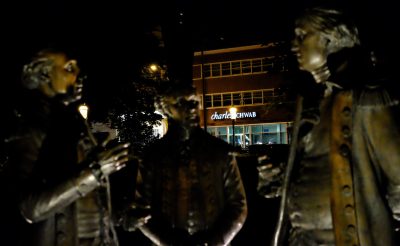 Charles Schwab from statues on the Morristown Green, by Luke Gong
The life size statue, "The French Are Coming", commemorates the meeting of General George Washington and Colonel Alexander Hamilton with the Marquis de Lafayette on May 10, 1780.
The North Jersey History & Genealogy Center invited interested persons to enter our third photo contest to celebrate our community through the art of photography, and contribute to the Library's local history picture collection. All 2018 contest entries were to feature a clearly identifiable image of an interior or exterior place of business in Morristown or Morris Township.
The award was based on artistic excellence and historical value. Congratulations, Luke!