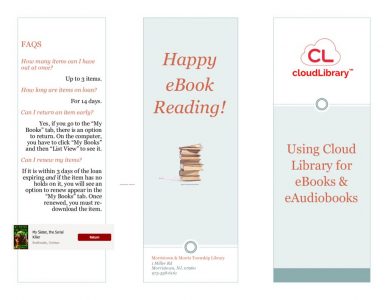 Updated: 3/3/21
Cloud Library is a platform for reading ebooks and listening to digital audiobooks. Our collection is always growing, and do our best to keep up with your reading needs! To that end, we wanted to let you know about a feature in Cloud Library that allows you to suggest we purchase a digital title if we do not already own it.
Before we get to that, if you do not already have the Cloud Library app, you can download it to your computer, smartphone, or tablet. You can download our brochure by clicking the thumbnail to the left, or check out Cloud Library's website which is full of great how-to's and answers to Frequently Asked Questions.
One update to our brochure: Patron Check-outs have been increased to 10 items at a time, and holds have increased to 5 items at a time.
Once you have the Cloud Library App installed, it's time to turn on Suggestions, which will allow you to tell us what you'd like us to purchase! And we would love to hear your suggestions, so please use them! Each patron can suggest up to 5 titles for purchase per month.
Now, how to turn on Suggestions! You can see what the steps look like on an iPhone in the images below the post.
In your app, look for the "Search" button at the bottom of the screen, it will have a magnifying glass icon. Click "Search"
On the next screen, look for a "Filter" icon in the top-right of the screen. Click the "Filter" icon
The next screen is your preferences for what you would like to see when you search in the app. It's first section, "Format," allows you to choose if you want to see either ebooks or audiobooks, or both. The second section, "Availability" will allow you to choose one of its three options. Those are:

Available Now: for when you want a book right now and aren't that picky which one it is
All Library Titles: for when you want to see everything we currently own, both available right now and those that you'd have to put a hold on and wait a bit for
Suggestions for library: for when you want to see everything we currently own, and items we can purchase. A great way to let us know what you'd like from us!

Once you've made your selections, click the "Save" button in the top right corner. You can always change these options, so if you turn on "Suggestions" and later want a book right now you can switch your preferences around.
If you've turned on Suggestions and you search for a book we don't own yet, it will have an orange "Suggest" button instead of a green "Borrow" or blue "Hold" button. Simply click the orange "Suggest" button and your suggestion will be sent to us! When we purchase a title you have suggested, you will get a notification that it is now on "Hold" for you!
We will be monitoring the suggestions and purchasing new titles on a regular basis, to get you what you want as close to when you want it as we can.