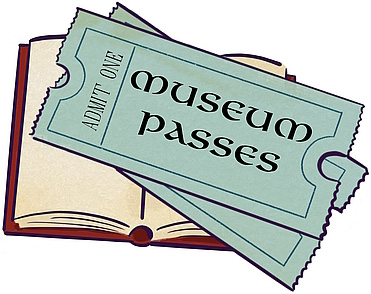 The Morristown & Morris Township Library offers 10 free museum passes to our library patrons over the age of 18.
Borrowing a Museum Pass
A valid Morristown & Morris Township Library card (except for temporary cards) in good standing, must be presented when the pass is checked out.
To see if a pass is available search by the term "museum pass" in our library catalog at http://catalog.mainlib.org/, or call 973-538-6161.
Only one museum pass at a time may be checked out on a library card.
A pass may be borrowed for a 3-day loan period – no renewals. Borrowers are urged to return the pass as soon as possible after use, so that the pass will be available to others.
Museum passes must be picked up from and returned to a staff member at the main Circulation Desk of the Morristown & Morris Township Library. Do not place in the outdoor book return.
A borrower may reserve a pass by phone (973-538-6161), to be picked-up from the Circulation Desk on the same day. A pass should be returned to the library on the third day of the loan.
A $5.00 per day late fee will be charged for an overdue pass.
If the pass is lost, the borrower will be charged the full replacement cost of the pass, ranging from $50-$500.
A $2.00 fee will be charged for lost cases.
Please Note:
The policies of each museum determine the use of the pass. Please refer to the specific regulations included with each pass.
It is the borrower's responsibility to verify the museum's hours, directions, parking, etc. through the museum's website.
Available Passes:
Our Selection (NJ)
Our selection (NYC)