The Caroline Rose Foster North Jersey History & Genealogy Center acquires, preserves, and promotes historical material generated by the individuals, organizations, and businesses of our state. The collections are made available to visitors in the Reading Room, and are also utilized in exhibitions, online and print publications, and through questions answered via e-mail, phone, and correspondence. We regularly host speakers on a variety of topics related to local history, in addition to offering programs and workshops ranging from researching family history to preserving records and photographs.

Planning Your Visit
To schedule your research appointment for the Reading Room and submit the list of items you would like to consult during your visit, contact us at njhgc@mmt.mainlib.org or 973.538.3473. Collection guides are available in our online catalog and finding aids. Our current hours are listed here and you may always find the latest updates on Library operations on our main website.
Upon arriving at the Library, take the stairs or elevator down one level. All visitors are required to complete a researcher registration form and agree to abide by the rules for using the special collections materials. No pens, food, drinks, large bags, or tobacco products are allowed in the History Center.
Notes may be taken with computers, handheld devices, or pencil and paper, and we ask that you limit what you bring into the reading room.
Collection Description
The History and Genealogy Center holds an exceptional collection of material documenting New Jersey and early American history, including publications, maps, historical newspapers, photographs and postcards, original manuscript and archival material, rare books, fine art, and prints. Most manuscript collections have online finding aids that provide detailed descriptions of the records, and our other collections can be searched through the Library's catalog and indices.
We hold one of the finest collection of genealogical resources in New Jersey, including family histories, church and burial records, published birth and death notices, state and federal census records, oral histories, as well as access to numerous genealogical databases in our Reading Room.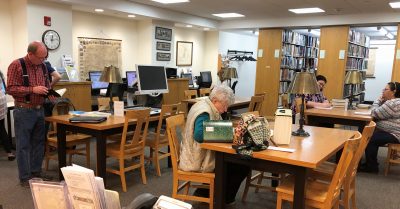 Research materials also consist of over 60,000 books; 10,000 maps of local municipalities, counties, and states; and over 1,000 linear feet of archival and manuscript material comprising family and business papers, property records, and church and charitable association records. Of general interest are a large collection of historical photographs depicting Morristown and Morris Township events and some surrounding municipalities, an extensive collection of Morris County newspapers dating to the late-18th century, New Jersey State Census schedules, rare books dating back to the 15th century, and resources on historic preservation and the conservation of books, manuscripts, and fine arts.
A significant portion of our publications cover New Jersey history and that of the original thirteen colonies. Also included in our holdings is one of the largest collections of original artwork by local artists, such as Thomas Nast, A.B. Frost, Homer Davenport, and Dorothy Kunhardt, as well as landscape architects Brinley & Holbrook, Ethelbert Furlong, and Joan Shapiro Greentree.
Parking and Accommodations
The Morristown and Morris Township Library is located in the center of Morristown's business and cultural district. In addition to a limited number of free parking spaces in the Library lot, there are metered spots along Miller and South Street that accept both coins and credit cards and have strictly enforced time limits. Long term lots are available across the street in the Vail Parking Deck, and at these garages all within walking distance of the Library.
South Street is home to many of Morristown's restaurants, coffee shops, and pubs, extending from Elm Street to the east and around the Morristown Green to the west. The Library maintains a list of nearby restaurants for visitors. The three hotels closest to the Library are the Hyatt Regency Morristown, Westin Governor Morris, and Best Western Plus Morristown Inn.
Reading room rules
The reading room is set aside for those using the Library's special collections and genealogical resources, which do not circulate. All researchers must register at the reference desk and agree to abide by the rules for using the reading room. Call slips are required to request all materials, which must be returned to the designated carts.
Researchers may only take notes with pencil and paper or computer, and public WiFi is available. All items must be handled with care and kept in their original order. All material must remain on the table; staff may direct researchers in the proper handling of items, including the use of book cradles and weights.
Microfilm readers and computers are equipped with printers (for a fee of $0.10 per page), and in most cases are able to e-mail or save copies to a flash drive. Scans, photocopies, and digital photographs can be made under staff supervision. As a courtesy to other users, please refrain from loud conversations and silence all electronic devices. Visitors must leave the reading room to make or receive phone calls.
No bags, folders, or other materials are permitted on the tables. Staff may limit what can be brought into the reading room to protect the collections, and personal property is subject to search prior to leaving. The History and Genealogy Center is open during normal Library hours. Researchers who are unable to visit in person may submit a Research by Mail form, and a staff member will conduct a search of our collections.
Phone: 973-538-3473
Please email us at njhgc@mmt.mainlib.org for more information.
Follow us on Twitter, Facebook, and read our articles at MorristownGreen.com!