Getting and Using a Library Card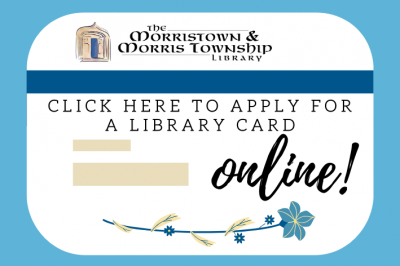 Morristown & Morris Township Residents
Morristown and Morris Township residents are entitled to a library card. Just bring in a document, such as a valid driver's license or utility bill, with your name and address to get your card. (If you bring in a utility bill it must have been received within the last two months.) Your card is good at all Main libraries, *Open Borrowing and MUF libraries.
Open Borrowing
Open Borrowing is a reciprocal borrowing program for library patrons to borrow in-person from among more than 75 public libraries in northern New Jersey. The participating libraries of Open Borrowing include:
LMxAC (Libraries Of Middlesex Automation Consortium),
Main (Main Library Alliance),
PALS (Passaic Library System),
SWELL (Sussex Warren Electronic Lending Libraries)
People Who Work in Morristown
People who work in Morristown and do not live in Morris County may also get a card. You must bring in a document, like a pay stub, that shows your name and work address. You will also need documentation that shows your home address.
Student & Nanny/Au Pair Memberships
Any K-12 students (or K-12 teachers) attending or working at a school in Morristown or Morris Township who do not live in Morris County may obtain a library card. K-12 students (or K-12 teachers) attending or working at a school in Morristown but who live in Morris County should get cards at their home library. These cards will have mostly full privileges at all Main libraries with possible database restrictions.
Nannies & Au Pairs living with a Morristown or Morris Township family, and nannies working in Morristown or Morris Township and living in Open Borrowing or MUF towns are entitled to restricted cards. You must show proof that you go to school or work here.
College Students
Libraries may issue a card to students attending colleges in their municipalities, but who have a permanent address outside of the Main member municipalities and outside any that participate in the Open Borrowing program or MUF program. It is recommended that libraries obtain proof of current enrollment at the school. These students are limited to walk-in use at any Main library but no access to online databases or services.
Temporary Cards
Temporary cards are granted to residents of shelters and halfway houses in Morristown and Morris Township with any form of identification. If you don't have any ID, bring a signed letter from the house manager stating that you are living there. The cards are good for 3 months.
Temporary workers under contract at Morristown and Morris Township businesses/organizations are eligible for a temporary card that is good for 3 months or the length of their contract.
Main Paid Cards
Individuals who do not reside in a municipality serviced by a Main library, including Boonton Township, Mine Hill, Netcong and Victory Gardens, may be eligible for a paid Main library card. This card will be issued by any Main member library. Stickers will be affixed to regular library cards in order for staff to readily identify these patrons.
Patrons with this library card are entitled to all of the rights and privileges of a "Resident Card" (see above), but all cards expire after one year. (Some database restrictions may apply.)
The annual fee for this card will be $250 per person ($225 for patrons 65 years of age and older).
The Main Board of Directors will determine changes to the annual fee for this card.
Revenue collected for these cards will be kept by the selling library.
Loan Periods and Fines
Loan Periods
Fiction & Non-Fiction Books: 28 days
New Fiction & Non-Fiction Books: 14 days
CD's: 14 days
Fiction DVDs & Videos: 7 days
Non-Fiction DVDs & Videos: 14 days
Fines
The Morristown & Morris Township Library is a fine-free institution, applicable to items owned by the Library. Exclusions may apply for certain non-book materials. Items not owned by the Library may be subject to different penalties depending on the lending library.
Kindles
The library has 6 Kindle eReaders available for loan to Morristown & Morris Township Library cardholders. They can be borrowed for two weeks at a time. Patrons cannot load their own titles onto the readers, but there are over 100 titles preloaded. They are lightweight, easy to read, and perfect for traveling. Check one out and give it a try.
My Account
From your account you can see and manage different aspects of your personal account. You can see what items you have checked out and when they are due, renew items, see what you have on hold and remove holds you no longer want. To access your account you must go to the log on section of our Library Catalog and log on with your library card number and pin.
Holds
Holds may be placed on any material listed in our online catalog. To do this you must go to our Library Catalog. When you locate the material you want there will be an option labeled "Place Request." Choose "Place Request" and you will be prompted for your library card number and pin. If you want to request materials that are not in the catalog you must request an Interlibrary Loan.
Interlibrary Loan
Items with a publication date greater than six months and that do not appear in our catalog might be available via Interlibrary Loan (ILL) for cardholders who are permanent residents of Morristown and Morris Township in good standing. We can search libraries in New Jersey (and then outside the state) to try and locate a title for you. This service is generally free, although some libraries may require a fee before lending an item.
You may make an ILL request in person, by phone, via email at refdesk@mmt.mainlib.org, or by placing a request through JerseyCat, the main service through which ILL requests are made and received, and which provides access to participating New Jersey libraries' catalogs. Not all items appearing in JerseyCat are available for interlibrary loan. All requests need to be reviewed and approved by Library staff, and no more than 5 active requests per patron are permitted at any time. ILL requests can take as much as 1–2 months or more to fulfill. You will be called or emailed if an item has arrived, according to the preference indicated on your library account. Due to the volume of requests, we cannot contact patrons about the status of each individual request.
ILL items may only be picked up at our library, and must be returned to us by the date set by the lending library to avoid late fees. A one-time request for renewal can be made at least one week before the item's due date; renewals are subject to the lending library's approval. Duplicate and over-the-limit requests will be automatically cancelled, as well as requests for items in our catalog that are currently checked out, held, and/or in-transit to other patrons.
Please contact our Reference Department for assistance or any questions about making an ILL request. You may also email us at refdesk@mmt.mainlib.org.
Automatic Renewals
Most materials will be renewed automatically at the end of their loan period. Items will be renewed twice, unless a hold exists on any particular item.You will be notified of the successful renewal by email or phone, whichever is your preferred contact method.
Returning Materials
Materials may be returned to any library in Morris County, Opening Borrowing libraries or any MUF library.
MUF
MUF stands for Morris Union Federation and it is a small consortium of three libraries outside of Morris County and several Main libraries that have agreed to share resources with those libraries. The three libraries outside of Main are New Providence, Summit and Berkeley Heights. The Main libraries that share resources with those libraries are The Morristown & Morris Township Library, Bernardsville, Library of the Chathams, Madison Library, Long Hill Township Library, and Bernards Township Library.