Book of the Day: Mr. Lemoncello's Very First Game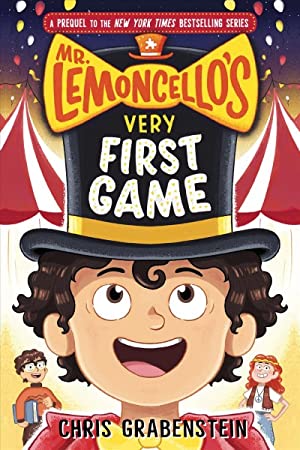 Discover where it all began…Meet Luigi Lemoncello before he was the World's Greatest Game Maker!
Thirteen-year-old Luigi has a knack for games and puzzles, but sometimes it feels like the cards are stacked against him. Until a carnival arrives in town and Luigi gets the chance of a lifetime–the opportunity to work for the world-famous Professor Marvelmous, a dazzling, banana-hat-wearing barker who puts the show in showman. When the carnival closes, the professor leaves behind a mysterious puzzle box along with a clue–a clue that will lead Luigi and his friends on a fantastical treasure hunt for a prize beyond anything they can imagine…if they can find it! Can Luigi crack the codes and unlock the box's secrets? Will there be puzzles? Of course! Balloons? You bet! Will it be fun? Hello, it's a Lemoncello! the board is set and the game is on in this splendiferous, puzzle-packed story about the boy who became the one and only, the legendary game maker himself–Mr. Lemoncello.