Book of the Day: The Tale of the Whale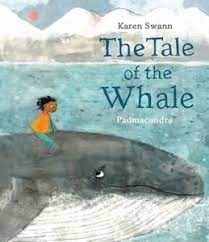 Where land becomes sky and sky becomes sea, I first saw the whale and the whale first saw me…
A child joins a friendly whale for a magical journey of discovery. They sail the blue ocean, dance with dolphins, and tail-splash seagulls. But the child also sees an ocean filled with plastic trash. And that inspires a promise of help–for all of Earth's creatures. Marvel at the wonders of the sea in this lyrical story of friendship, hope, and love for the world around us.