The 1788 Morristown Ghost Hoax: The Search for Lost Revolutionary War Treasure
October 25, 2022 @ 7:00 pm

-

8:30 pm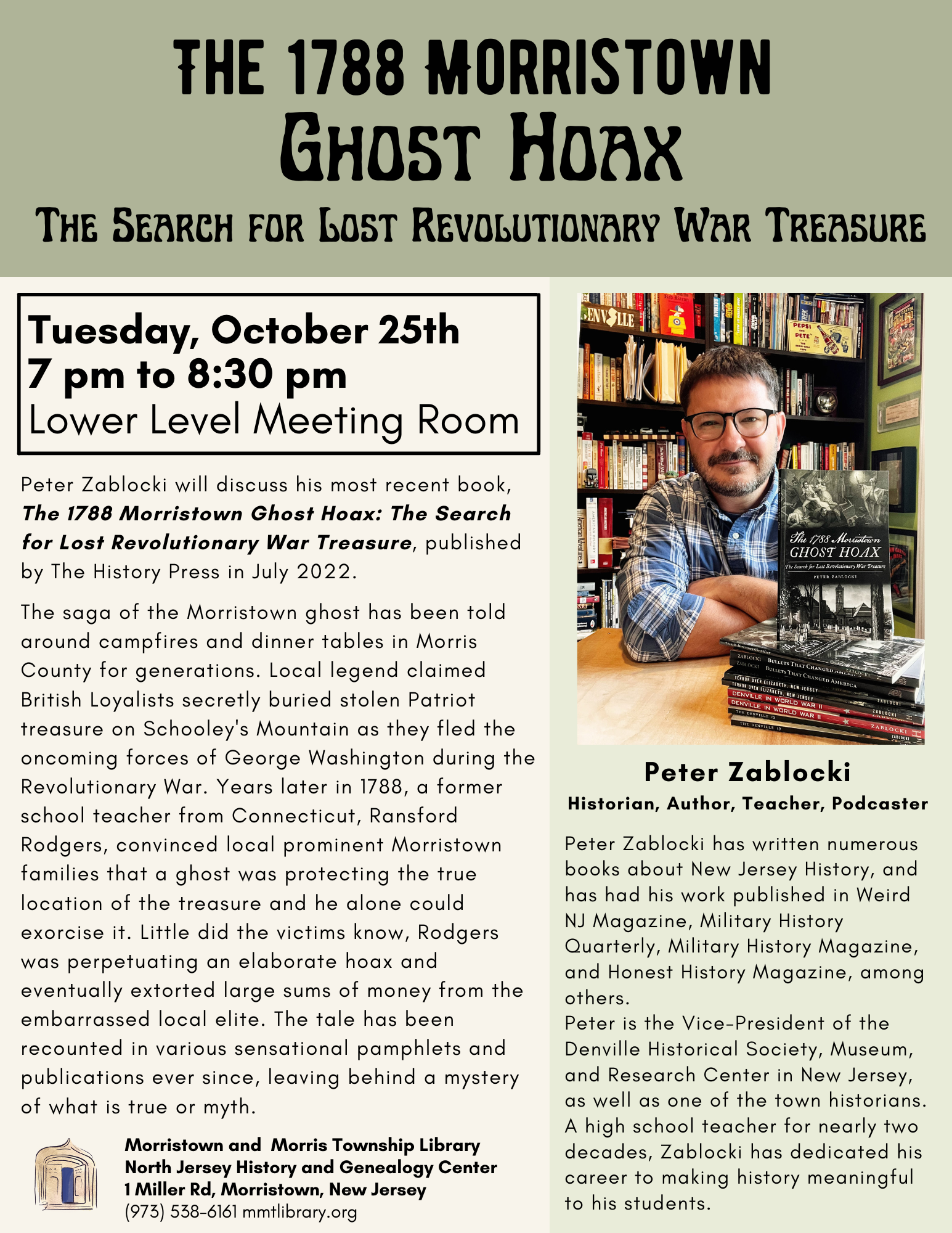 Peter Zablocki will discuss his most recent book, The 1788 Morristown Ghost Hoax: The Search for Lost Revolutionary War Treasure, published by The History Press in July 2022.
The saga of the Morristown ghost has been told around campfires and dinner tables in Morris County for generations. Local legend claimed British Loyalists secretly buried stolen Patriot treasure on Schooley's Mountain as they fled the Revolutionary war. Years later in 1788, a former school teacher form Connecticut, Ramsford Rodgers, convinced local prominent Morristown families that a ghost was protecting the true location of the treasure and he alone could exercise it. Little did the victims know, Rodgers was perpetuating an elaborate hoax and eventually extorted large sums of money from the embarrassed local elite. The tale has been recounted in various sensational pamphlets and publications ever since, leaving behind a mystery of what is true or myth.
This event will be located in the Lower Level Meeting Room.
About the author: A high school teacher for nearly two decades, as well as one of the town historians, Zablocki has dedicated his career to making history meaningful to his students. Peter Zablocki has written numerous books about New Jersey history, and has had his work published in Weird NJ Magazine, Military History Magazine, and Honest History Magazine, among others. Peter is also the Vice President of the Denville Historical Society, Museum and Research Center in New Jersey.