The North Jersey History and Genealogy Center Reading Room has publicly accessible shelves, computers with access to genealogical and historical databases, wifi access, and microfilm readers. Other collection material is stored in closed stacks and is available to researchers upon request.
Both card and computerized catalogs are available, and there is always a staff member on duty to help patrons.
Patrons unable to visit our library may request research by mail.  For more information, please see:  Requesting research by mail.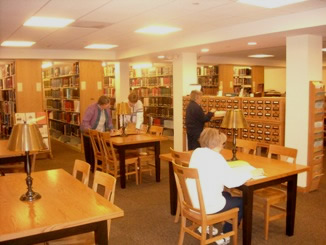 Please note that our collection does not circulate.  All material must be used in the Reading Room. There are printers for the computers and microfilm readers as well as a color/scanner copier. Digital camera use is permitted. The North Jersey History & Genealogy Center is a special collections facility and patrons must use pencils while working in the Reading Room. Food and drink are not permitted.
Phone: 973-538-3473
Please email us at njhgc@jfpl.org for more information.