A multiyear effort to preserve and catalog the municipal records of both Morris Township and Morristown has concluded and the materials are now open to users. Morris Township's history dates back to the English settlement's founding in 1715 and includes its trajectory from an agrarian village to the center of Morris County's commercial, manufacturing, and residential development.
The Morris Township collection traces municipal government activities from 1837-1997, with the bulk of the materials spanning from 1940-1970. Records include resolutions, ordinances, and budgets related to various activities of the Township Committee. They also consist of materials from the Board of Adjustment, Planning Board, Finance Board, and Police Department. A full description of the papers and their contents may be found here.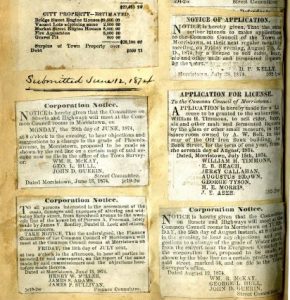 Morristown was carved out from Morris Township in the waning days of the Civil War, and its records contain some of the oldest documentation of local governance in the county. Among the materials are information from the Town Clerk, Finance and Building departments, Public Works, Board of Health, and Police and Fire departments. The records span from 1763-1982, with the bulk covering the period between 1865-1970. A detailed description and inventory of the collection can be found here.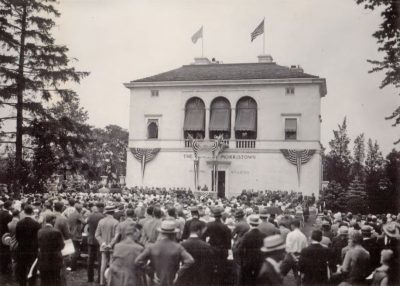 Interested users may call ahead (973.538.3473) or e-mail the History Center (njhgc@mmt.mainlib.org) to request an appointment. When placing a request for materials please specify the item's full title as listed in the finding aid, as well as the box and folder number.